October 2, 2013, by Emily Lattal, Marketing Intern at Young Audiences Arts for Learning.
Original post from Young Audiences' national website
Young Audiences New Jersey & Eastern Pennsylvania (YA) is kicking off the fall season with three Assembly Artist Showcases across the region.  These free preview performances give PTA/PTO constituents the opportunity to see YA teaching artists in action.  Students from the host school also attend the performances to show just how engaging the performances are for young learners.  I had the pleasure of attending the YA kickoff Showcase in Northern Jersey on Tuesday at St. Rose of Lima Academy in Short Hills.  I was thrilled to see such a range of lively artist performances, and even more so to witness the enthusiastic and engaged reaction from the students in attendance.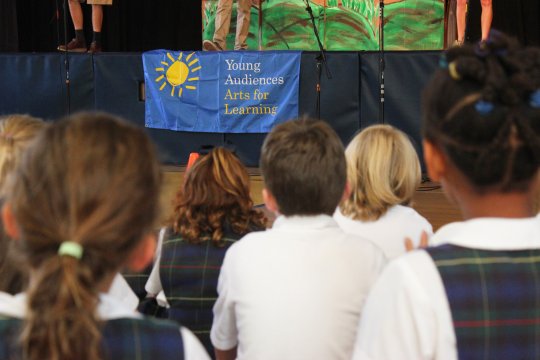 The Showcase featured nine preview performances, ranging from a theatrical skit focused on the history of New Jersey, to a Brazilian dance group, and a one-man show.  But four relatively new acts really stood out to me because of their unique premises and emphasis on interaction:
Operation Superpower
Opera is not an art one intuitively links with early elementary school students, but the first and second graders lucky enough to see this performance were transfixed by the Julliard-trained-trio turned operatic super heroes.   John Brancy and Tobias Greenhalgh perform the music of composer Armand Ranjbaran, bringing the audience into the kid-familiar world of superheroes to introduce operatic singing, and to inspire students to take a stance against bullying.  The performance encouraged participation from the children as they recited and practiced the "5 elements of discovering your superpower": courage, hope, honesty, imagination and friendship.
Hip Hop Fundamentals
Hailing from Philadelphia, the four members of Hip Hop Fundamentals presented an interactive performance emphasizing the origins of the art form, rooting in "peace, love, and unity."  After performing several breakdance combinations, and giving a brief history of Hip Hop, the dancers invited eager student volunteers to come up onstage to try out some basic moves.   The presentation pointed out many misconceptions in the mainstream perspective of Hip Hop, and underlined the central principles of the art form including self-expression, hard work, and fitness.  Check out some of their performance in this clip.
Field Station: Dinosaurs
This performance used singing, acting, and puppetry to teach students about prehistoric science and the fossil history of New Jersey.  Audience members were asked to match descriptions of different dinosaurs with corresponding fossils, and then had the opportunity to touch and handle fossilized skulls.  The highlight of the program was when students received an up-close and personal visit with realistic baby dinosaur puppets.
Experiential Theater Company
Combining puppets, live actors, digital sound effects, and audience participation, the Experiential Theater Company's telling of the classic myth of Perseus was full of surprises.   Throughout the performance, students were eager to converse and connect with the characters, including the giant Zeus puppet that towered above the set, and a trio of oracle marionettes.  The company, whose mantra is "if you're in the room, you're in the show," demonstrated how to tell a classic story in a new and engaging way.  Our only disappointment was that the preview ended before Medusa, an elaborate puppet touted to be 20 feet long, made an appearance.  But this absolutely made me want to see more from ETC!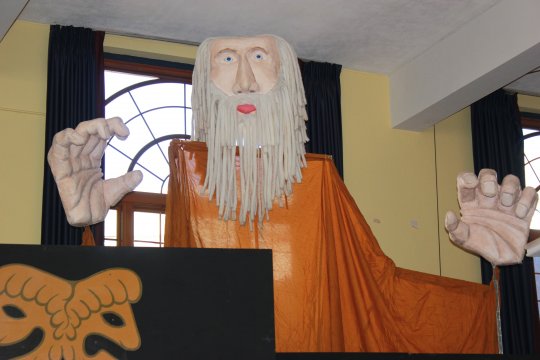 Overall, it was wonderful to see that such engaging performances are available for NJ and Eastern PA area students to experience.  I would like to thank the staff members of Young Audiences New Jersey & Eastern Pennsylvania, and St. Rose of Lima Academy for the opportunity to visit and observe this dynamic showcase.
Learn more about Young Audiences New Jersey & Eastern Pennsylvania and their exciting performance and workshop options.